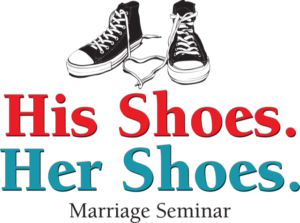 Saturday, February 24th
9am-3:30pm
Admission is Free. Free childcare and lunch provided.
This free seminar held by Wayne and Tami Roberts will be a great way for married couples to communicate better and draw closer with each other and grow closer to each other and achieve what God wants for every marriage.
Seminar Topics Include:
Big Shoes to Fill- Being a Husband.
These Shoes are Too Tight- Being a Wife.
Glass Slippers- Finding God's "Happily Ever After".
Tongue Tied- Communication in Marriage.
Climbing in High Heels- Overcoming Difficulties.
Pumps and Penny Loafers- The Fashion of Passion.
Whose Bed are Your Shoes Under?- Faithfulness in Marriage.
It's all About Their Soles (Souls)- Getting to Heaven, Together.
*Tami only teaches in the breakout sessions to only the women.
Reservations Requested. Please Fill out Form to RSVP